Induction Hardening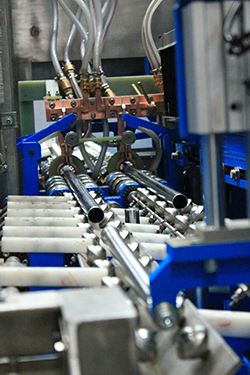 Induction hardening process is the process of heating the surface of the metal parts by electric induction with rapid heating rate. The work piece will have clean surface with designated case depth and not directly contact with heating source. We can choose the varieties of specific position for induction by customer demand.
The Frequency for induction hardening is over 1000 Hz. The induction equipment for surface hardening will be both medium and high frequency. Metal parts, which are made of medium carbon steel and alloy steel which the hard surface and toughness core are required, can be heat treated with induction hardening process.
We provide induction equipment with frequency from 10 to 200 kHz and power from 10 to 250 kW for surface hardening of small parts and also large gears.
Induction Hardening Technology can be applied with various kind of metal parts either simple or complex shapes, surface or through hardening. As we are commercial heat treatment company, we can control various parameters to obtain the good quality products. Metal parts which we would like to recommend for induction hardening are
Transmission system: crank shaft, cam shaft, universal joint, gears valve seat, and bolt etc.
Machine Tool: Machine bed, gears and shafts etc.
Tool & Spare parts: roller bushes, pins, hammers etc.